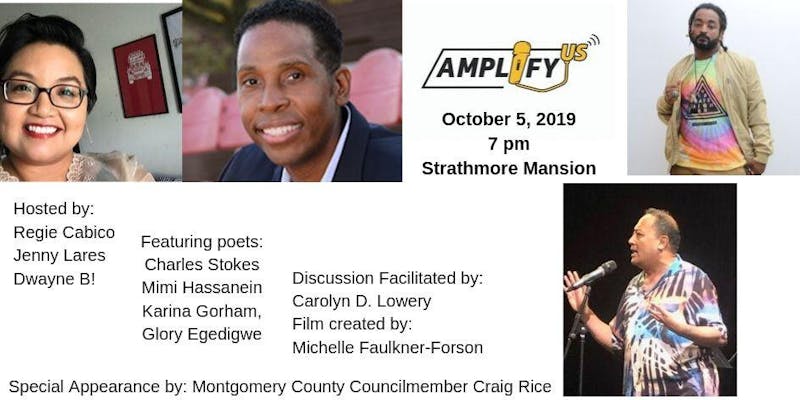 Amplify US! is dedicated to opening a channel and forming relationships with those around us. We perform to communicate, to advocate, and to inspire the changes that need to occur in communities.  We create and share to live. By listening to connect with others and sharing our stories, we see and feel the similarities and celebrate our differences.
Now is the time to engage, now is the time to educate, now is the time to empower, and now is the time to act.Experience funny, dramatic, and heart-wrenching true stories in these thought-provoking and entertaining performance events. Locally famous and nationally renowned artist, Regie Cabico, will emcee the evening with performances from Jenny Lares, Dwayne B! (ME!) and featured community artists: Charles Stokes, Mimi Hassanein, Karina Gorham, and Glory Egedigwe. Montgomery County Councilmember, Craig Rice will also be making a special appearance to talk about how you can get involved in making Montgomery County a more racially equitable place to live a grow.
To conclude, reflect upon the stories you hear guided by a professional facilitator, Carolyn Lowery.Admission is FREE. Reservations are preferred, though tickets will be available at the door.
HOWEVER – we suggest you reserve today – previous events have SOLD OUT!*Appropriate for middle school-aged children and older. For accessibility requests, call 301.916.6328
Source: Amplify US! October 5, 2019 Performance Tickets, Sat, Oct 5, 2019 at 7:00 PM | Eventbrite
Categories: Events